Photo courtesy of Robeck Design.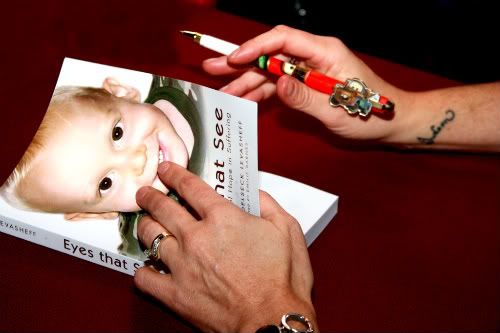 I just spent some time this evening answering interview questions for ChristianBookNotes.com. Our publisher sent them a copy of our book for review and after reading it, Drake and I were honored to have them request a written interview. The last question really affected me:
7) Can you describe other ways God has used Judson's life in your life?
This question caused me to weep. I cannot even begin to express in words the depth of what God has done in my life through our son. I sat on the couch, computer in my lap, frozen, as tears trickled off my cheeks. After much reflection, thus was my response…
The gift of Judson's life has shaped me, the anguish over his suffering and death has reshaped me, and every subsequent breath is bound to him. Because of Judson I look at the world with new eyes, and I hope and pray they are Eyes that See.
I continue to cry out for eyes that see… eyes that see God.
And as today marks one week from the national release of Judson's book (Tuesday, April 6th) my heart is filled with an array of emotions from excitement to sorrow to fear, but more than anything our prayer is that God might use Judson in the life of others, that they too might be calling out to God for Eyes that See.
___________________________________
Eyes that See Update
In an effort to keep my blog readers in the loop as to what is happening with Eyes that See, I am now going to frequently post book information at the end of my blog. Thank you for your support!
~ Eyes that See is currently available online for pre-order at Amazon and Barnes & Noble. Pre-ordered copies of the book will be sent next Tuesday, April 6, on the release date.
~ We are currently offering Judson's Facebook fans an opportunity to show their suppot of Judson and potentially receive a free signed copy of the book and a $20 GIFT CARD to Amazon. Click here for more details.
~ Monday, April 5, ChristianBookNotes.com will post their review of Eyes that See.
~ APRIL 6th—It's official!
~ More to come…