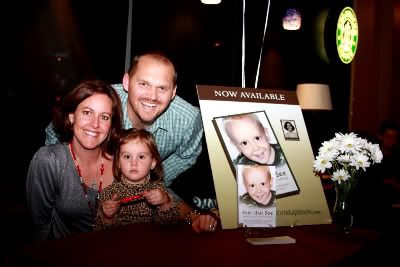 Dear family and friends,
Going into Tuesday night's book signing at Starbucks near our home in Costa Mesa, we didn't know what to expect—it was the first book signing for Eyes that See and full of apprehension for Christina. Even though book-signings are an expectation from the publisher, it felt like a risk and we half-wondered whether Christina would spend much of her time just twiddling her thumbs at the table hoping people might stop by.
As it turned out, Christina didn't have any time to twiddle her thumbs with the many who came out to support us. Friends showed up to the event early and a steady stream of people came through Starbucks until after 7 p.m., the scheduled end-time. All in all, we had over a hundred folks of all ages join us. We were honored and encouraged by the outpouring of love and kind words from so many and enjoyed all the activity at our favorite Starbucks—what a blessing!
We're grateful to all who joined us that night to celebrate Judson's life and the book that shares his story. We are also very thankful to our hosts at Starbucks on Harbor and Wilson, to Dean and Sarah for helping us sell books and keep an eye on Jessie, and especially to Cristina Robeck for taking photos throughout the night—she really captured the vibe of the event! (See more event photos on Judson's Facebook Page.)
How many more signings will Christina do? Time will tell… But we were certainly blessed by the celebration we had Tuesday night and grateful for the opportunity to share Jud's story in this way!
With gratitude,
Drake (on behalf of Christina too)