There are certain people with whom you meet who have the ability to touch your life in just a few short moments with only a few words. I had the privilege of interacting with one such individual recently.
A gentleman that has regularly been coming into "our" Starbucks the last couple weeks had caught my eye on multiple occasions. In fact, he probably catches the eye of most people…he is severely disabled. After seeing him a couple times I learned from one of the employees that his name is Bobby. Bobby has significant gross motor disabilities and is unable to speak, but he still hobbles along and makes efforts to communicate; though one might on first impressions perceive otherwise, it quickly became apparent to me, after observing Bobby, that he was sharp and mentally astute. Yet although Bobby stands out because of his disabilities, I began to realize that I was surprisingly drawn to him for another reason…
As I would watch Bobby struggle with each stride, listen to him communicate with grunts and gestures, and observe him interacting with others, he actually reminded me of Judson when Krabbe was ravaging my boy's body. But it was even more than the apparent similarities in some of their disabilities—Bobby's smile, presence, and demeanor reminded me of my beloved son.
While watching Bobby, I began to imagine Judson growing into adulthood with such disabilities and picturing how people might have mistreated him or misperceived him as mentally incompetent, incapable, and even sub-human… these images of Jud shattered my heart! An intense compassion for Bobby rooted and began to grow with each thought that related him to my precious boy.
Each day I would see Bobby I would wave, smile, and greet him, Jessie might blow him a kiss or two, and then we each went our separate ways. But every time my eyes met his smile, I was overcome with an uncommon heartache and love, uncharacteristically drawing me to this man.
So on Tuesday of this week I stopped to talk with Bobby. Our conversation consisted of my saying a few things to him, and then he would gesture and make sounds in an effort to communicate back. Sometimes I understood and sometimes I just nodded and smiled. Then I suddenly felt strangely compelled to mention Jud. I grabbed one of Jud's website cards and as I handed it to my new friend, I briefly shared how we had lost our son to a disease that caused him to go mute (amongst other things), explaining that Bobby's disabilities were close to my heart.
The next thing I knew, I was in the consoling embrace of this shunned man. He proceeded to indicate with his hands his empathy as he mimed tears on his face and his intentions to pray for us by putting his hands together in the traditional posture of prayer and then pointing to the heavens. We chatted a little longer and then both went back to our seats in the coffee shop and continued what we had been doing previously. About 10 minutes later Bobby walked by again and handed me this note: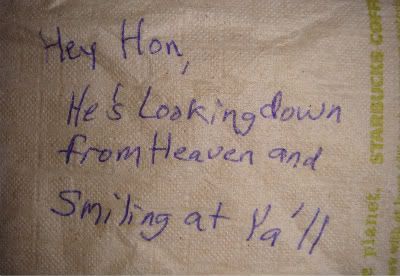 Tears began to well in my eyes as I realized the compassion he was pouring upon me. I invited him to sit down at my table and he began to share with me a little about his story by writing on napkins while also encouraging me with his written words. I don't know how else to explain it except to say that I felt like the Spirit of God was especially present with this man and it was a joy to be in his presence.
I had come into the coffee shop heavily burdened with deep sorrow that day, desperate to know that God loves me and is smiling upon our family even when we don't necessarily see or feel it in our day-to-day experiences. As I engaged Bobby in an effort to reach out, I quickly realized that he was the one ministering to me, and it was through Bobby that God chose to reveal himself to me that day.
God has a special place in his heart for the severely broken and I believe they often know the Father more deeply and intimately than the rest of us ever could (partly because they may not be hindered by their own self-reliance like the rest of us tend to be). I experienced it with Jud and I see it in Bobby too.