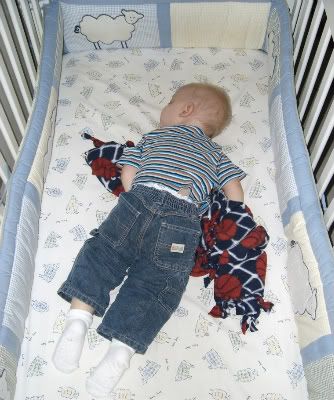 It was around the age of one when we decided to wean Judson from his pacifier by poking holes in the end. In an effort to provide a substitute item of comfort, I went to the fabric store and selected a nice, masculine-looking fleece and proceeded to lovingly make multiple blankets for Jud by cutting and tying a knotted fringe around the edge of the soft, navy blue cloth accented with basketballs. I believe I made six total blankets, one of them handkerchief-sized for traveling convenience.
Judson swiftly took to his new blankets with the Linus-factor quickly kicking in; the pacifiers were easily forgotten and the substitution was a success. We made one blanket available at a time, and eventually limited his use to naptime and bedtime.
I recall one afternoon, before we moved to our current home (so Judson must have been less than 17 months old), I randomly offered him two of the blankets to sleep with instead of one, revealing the secret that we had multiples of his beloved comfort-fleece. His face lit-up as he declared, "Two!" with extreme enthusiasm. From that day forward, Judson requested to sleep with two blankets and soon developed a system for his basketball coverlets. He would curl up, throwing one of them over his back for warmth and security (even in hot weather), and then clutch the other in his arms, snuggling it close.
Judson cherished his blankets.
As I was looking through the pictures in Judson's book, I realized that after he began to suffer, he had one of his blankets with him almost constantly; they served as a source of familiarity and security when faced with so much unknown, especially in his blindness. In many of the pictures after Krabbe began to overtake his body, his blanket is either prominently displayed or, to the knowing observer, a corner visible. These pieces of cloth that I had intended to simply ease the transition of the pacifier became a hugely significant part of Judson's little life, symbolizing comfort in chaos and suffering.
When I originally made six blankies, it seemed a little excessive (I had purchased too much fabric and rather than having it sit in a drawer, decided to use it all). Now I find myself incredibly grateful we had so many. Judson was buried with one blanket in the crook of his arm, we gave one to our friend John at the time of his death, one was incorporated into Jud's clothing quilt (thank you Emily!), Jessie has one in her room that she periodically sleeps with, and the other two have become my comfort in chaos and suffering.
Now I cherish his blankets.