Birthday week for our Ladybug is in full force as Jessie turns four on the 19th. And with our little girl gaining a year in age, it seemed a fitting time to finally re-decorate her room to match her age and personality (we had planned to do it once before until the bunk bed fiasco). So, she went away for a couple days to spend time with Grammy and Papa while we went to town painting the dark olive green walls to a cheery yellow, moving furniture, clearing out drawers, and putting up colorful butterfly, dragonfly, ladybug, and floral decorations. Jessie returned home today to a door adorned with a bow, concealing the big surprise.
We never quite know how Jessie will respond in such a circumstance. Will she be enthusiastic? Will she be apprehensive? Will it seem like a significant change? Will she like it? We weren't quite sure what to anticipate with her reaction.
However, with the unveiling of her new digs, we couldn't have asked for more exuberance and excitement. Jess began dancing and jumping with delight! Her "big gir room" is a huge hit!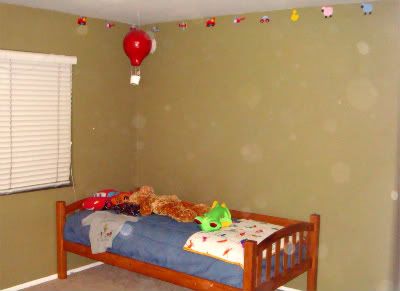 This is a snapshot of how Jud & Jessie's room has generally looked since we moved into our home (May 2006 before Jessie was born).
This picture was taken right after the bunk bed broke.
And here is Jessie's response to her new room…