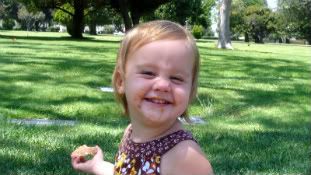 So how do you include a brother, who now lives in heaven, in the 2nd birthday celebrations of his little sister?
I don't know, but I made an effort to do so yesterday.
It is uncommon for me to take Jessie along when I visit Judson's gravesite, but I made an exception for her b-day week…
Jessie and I had a picnic on Jud's burial ground. It felt like a fitting way to "include" him. It may have been a sorry sight to on-lookers at Fairhaven Memorial park, and it might seem a little twisted to those who are not intimately acquainted with death, but Jessie and I had a pleasant and fun afternoon on Judson's plot of grass. Not only did we bring our lunches, but we also brought the bubble blaster, read books, tackled, giggled, and played—all things Judson would have enjoyed too. And while we were eating I took the opportunity to remind Jessie how much Judson loves her, how he used to care for her, and how he will always be her brother even though he lives in heaven with Jesus. I also told her that I was confident Jud was celebrating her birthday with us.
Clearly, Jessie cannot get the full gist of what I am communicating, but I strongly believe she is forming a sense of Judson in these early years that she will carry with her for a lifetime. It is my hope she can live with confidence knowing she has a brother that loves her dearly (much like she has a Heavenly Father she cannot see who deeply loves her).
As we were leaving, Jessie took the opportunity, voluntarily, to blow kisses at Judson's photo on the grave marker. I exclaimed, "You're the best sister, Jessie!"
She replied, "Yeah!" with a smile.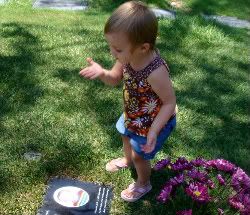 I was reminded that just as Judson will always be Jessie's big brother, she is also still his little sister and is engaging that role as best she knows how.
I am also still a mother of two kiddos…I'm engaging that role as best I know how.