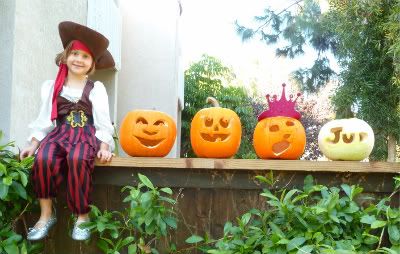 It might be considered a new milestone for the little lady of our house, when the prospect of being a pirate was met with more enthusiams than than the possibility of donning a princess dress for Halloween. I'm not sure Jessie even knew at the time of making her decision what a pirate is, but it seems she was unable to resist the plethora of accessories that came with the pirate outfit: vest, belt, headband, hat, oh my!
When asked, "Jessie, are you the scurge of the sea?"
She quickly retorted, "No, I am the ladybug of the sea," as if the question was ludicrous. "And I am a kind pirate."
And a kind pirate she was…giving thanks to all who gave her loot and even helping her little cousin, Abie, remember to express gratitude as well.
Captain Jack Sparrow's got nothin' on her!!