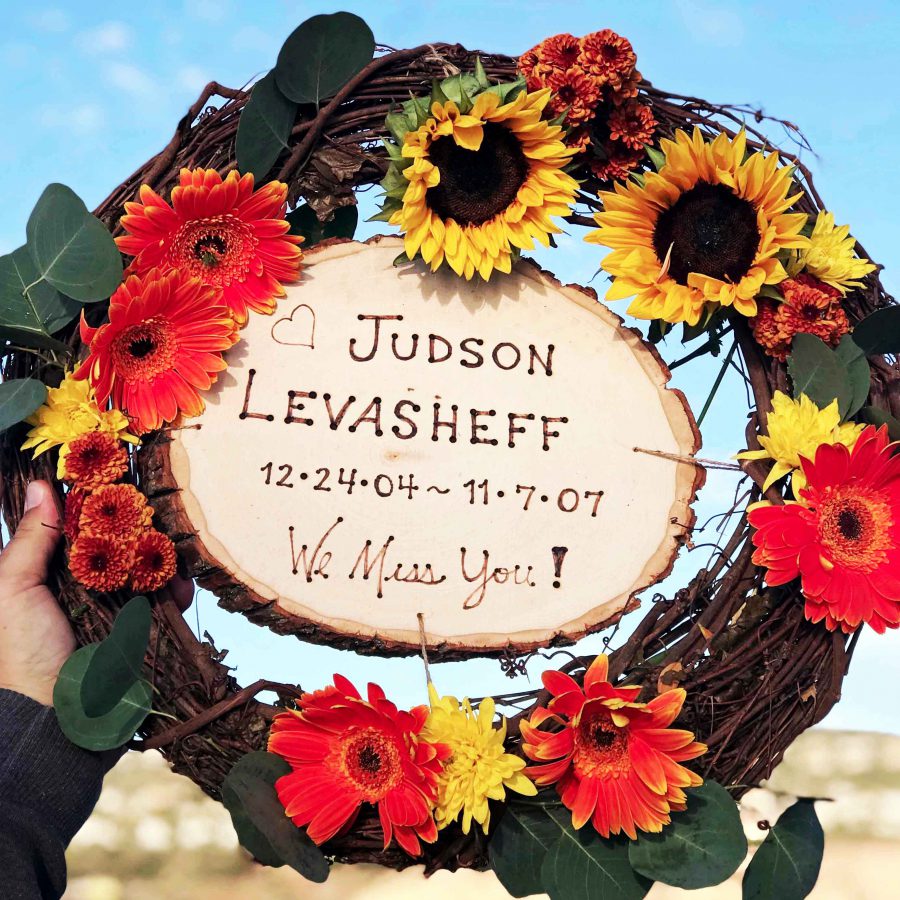 Dear Buddy Boo…
Is it really ten??!? Ten years? Ten whole years I've lived without you.
I find it hard to grasp, hard to comprehend. I get a lump in my throat when I consider the reality of what ten years means. It's significant. Ten years is, in fact, monumental.
It's monumentally painful and it's monumentally hopeful.
It hurts to reflect on these last ten years and how I've had to experience every single moment without you. Nothing has been complete. Nothing has felt whole. Nothing.
And yet, I actually marvel that I've made it ten years.
Ten  MINUTES after I lost you, I was cleaning your body and putting a fresh diaper and clothes on your lifeless form. It was unfathomable. I expected the fullness of life to return to your flesh and bones; it just had to.
Ten HOURS after I lost you, I was saying goodbye to your body. I didn't actually realize it would be the last time (this side of heaven) I would lay eyes on your beautiful face or hold your frame—the one I had birthed, held, kissed, and nurtured. It felt impossible this was the end.
Ten DAYS after I lost you, I was in shock. I was in a daze, trying to make sense of what had transpired. How could you be gone? I had been gutted and I had this huge gaping wound. Raw. Exposed. Grave. This gash, the wound of losing you, was unbearable.
Ten MONTHS after I lost you, I thought I would suffocate from the pain. I couldn't breathe. This heavy weight of loss threatened to strangle me. I was learning to live one moment at a time, but enduring the rest of my life without you felt unsurvivable.
Now it's been ten years… TEN YEARS! What was unfathomable, is now known. What was impossible, is now doable. What was unbearable, is now my normal. What was unsurvivable, has become livable. I have actually endured ten whole years without you.
My longings for you remain unchanged, Juddy, but what has changed is my ability to live with those longings. I've learned, over time, to simultaneously carry joy and pain in a more holistic way. Yet, my varied emotions still seem to reside on the surface of each moment, wherein all my feelings are easily accessible; this can be both beautiful…and challenging (the tears still spill out of me without warning). But because of you, my sweet boy, I experience all of life with greater depth of feeling,
And I deeply feel your absence, Jud Bud. With every breath. Still. But I've been doing this for ten years now. I. Have. Been. Doing. This. For. Ten. Years. And I will keep doing this until we are reunited in the presence of the One who holds you now.
It's monumental, my sweet boy. Ten years without you is monumental. But what's even more monumental is YOU. You continue to be a monument of God's love, faithfulness, joy, and hope.  I love you so much, Buddy Boo!
With all my heart,
Mommy